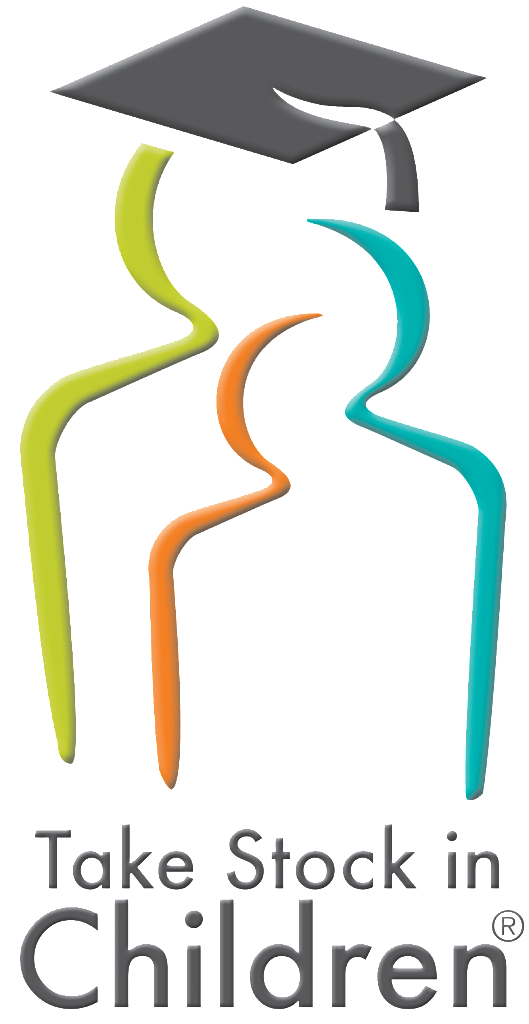 Take Stock in Children provides a unique opportunity for deserving low-income youth/students, many from minority families, to escape the cycle of poverty through education. We offer our students college scholarships, caring volunteer mentors and hope for a better life. Our comprehensive services start in middle school, continue through high school and include their transition into college.
Our program is based on the principal that given extensive support, motivation and accountability, children will work hard to ensure that they graduate from high school and attain a college degree. We fund our college scholarships and student services through a unique public-private fund raising model, and our mentors generously volunteer their mentoring services to our children.
Take Stock in Children Scholarship Application
– Please check back in September 2023 –
The selections process continues into the spring, and all students will be notified by staff or letter by March 2023 as to their application status. It is a competitive process, and students are selected by committees comprised of educators, civic leaders, and business sponsors from their own communities.
Selections Process: We select Marion County Public School students during their 8th grade year. Students must be eligible for free or reduced lunch.
To be eligible to apply, the student/family MUST meet the following criteria:

2.5 unweighted Grade Point Average (C+ average or above in all classes)
Families MUST meet the free/reduced lunch income eligibility guidelines

To check your eligibility for the 2022-2023 school year, please review the TSIC Eligibilty Flyer.
Families must provide income tax documentation. If income taxes cannot be provided, please refer to the eligibility flyer for more information.
If the student & their family meet the eligibility requirements, please note the following:

October 14th, 2022 – TSIC Scholarship Applications are available
Completed TSIC Scholarship Applications are DUE to your school's TSIC Coordinator in November on the date assigned by your school.

Applications must be completed and submitted to your school's guidance office to the Take Stock point of contact, with attached proof of income (copy of 2021 income taxes or other approved proof of financial qualification)

If the family did not file income taxes for 2021, please refer to the eligibility flyer, the instructions in the application or email

[email protected]

to discuss the circumstances.
If your family chooses to download the fillable PDF application from our website, it must be returned to your school's TSIC coordinator in guidance, NOT the Public Education Foundation.
*Families will be notified of their application status by the end March 2023.
*Eligibility does not guarantee a student will be accepted. A limited number of students are accepted.
Click here for the 2022-2023 Take Stock in Children Student Application!
Students & Parents Sign a Performance Contract
Upon selection, scholars and their parents/guardians sign a contract agreeing to stay in school, maintain good grades, exhibit good behavior, remain crime-and drug-free, meet with their mentors once a week and attend Take Stock workshops and events. Students are held accountable; if they violate their contracts, they will lose their scholarships.
College & Vocational Scholarships Provide Hope for a Better Future
All scholars who successfully complete the program requirements receive a two year Florida Public College tuition scholarship through the Florida Prepaid Foundation's Project STARS program after graduating from high school.
Take Stock in Children Provides a Road to Success
Take Stock in Children makes a multi-year commitment to children, providing an inclusive array of services from the time they enter the program through their graduation from college or vocational school.

College Success Coach & Case Manager
Each scholar in the program is assigned a College Success Coach who meets with the student and monitors his/her academic success. The Success Coaches also work closely with mentors and school personnel to ensure that each child achieves success.
Parental Involvement Increases the Chances of Success
Parents are responsible for supporting and encouraging their child's academic success by 1) developing positive relationships with teachers, mentors, school administrators, and Take Stock in Children staff, and 2) playing active roles in the educational, cultural, and school-based activities of their child.
---
Volunteer to be a Mentor
You can help by mentoring a Take Stock in Children student at his/her school for at least 30 minutes per week. Our students need caring individuals, like you, to enhance their positive development. Learn more about how you can help by mentoring a student.
What is a Mentor?
A mentor is a caring, compassionate adult who chooses to devote their time to a young person, offering them support, guidance, and encouragement. If you can donate one hour per week, you can change a life by helping a child build a solid foundation of values, establish goals, improve their academic and life skills, while developing their self-esteem and confidence.
Why Mentor?
Our success rate at Take Stock in Children is a result of a comprehensive approach provided by our program. One of the key and proven success factors is the role of the mentor. More and more people want to have a lasting, profound impact in their community. They understand that the commitment of becoming a mentor can change a child's life while helping them grow personally. Can you remember adults who paid attention to you; who believed in you; and who guided you during your childhood? These individuals served as mentors. Wouldn't you like to have someone think of you as their life-changing, trusted mentor?
Where & When Does Mentoring Occur?
Mentoring sessions range from 45-60 minutes and occur at a school near your home or workplace, during school hours. The days and times of mentoring sessions are arranged between the mentor and mentee depending on their individual schedules and classes. As a result, mentoring is convenient for both students and mentors.
How Do I Become a Mentor?
Take Stock in Children mentors learn the principles and guidelines of school-based, academic-focused mentoring. They participate in an orientation session and receive a manual that contains tools for addressing the general needs of their students: improving grades, preparing for college, career planning, and developing life skills. Mentors also will be able to use the weekly Mentor Minute, an online resource center, to provide support services that target the specific needs of their students.
Download your Mentor Welcome Packet with a mentor application by clicking below:
Mentor Welcome Packet with Application (fillable)
Be a Philanthropist
Take Stock in Children is more than a rewarding opportunity to provide an education for a child. It's an opportunity to change deserving low-income youth/students life forever. Become a donor and help break the cycle of poverty and high drop-out rates in your community. Donation can be made online.
Your donation to Take Stock in Children will provide a child with the promise of a college scholarship, the guidance of a caring mentor, and a sustainable outcome of success. Students in the Take Stock in Children program receive:
A college tuition scholarship for 2 years at a Florida Public college
Volunteer mentor who meets with the child at his or her school for an hour a week to provide academic support and motivation
Continuous assistance and intervention services by skilled student advocate (case Manager)
Active engagement of parents or legal guardians in the child's academic and personal development
Career and educational counseling
Corporate Partnerships
An economically viable community includes a successful and educated workforce. Recognizing the importance of this, Take Stock in Children's corporate partners have made a commitment to excellence in education and eradicating the cycle of poverty. Corporate sponsors provide in-kind services, mentors, financial support, and many cross-promotional opportunities. Companies can match donations given or raised by employees in addition to their corporate contributions. Take Stock in Children offers customized partnership programs for corporate sponsors.
---
Success
Take Stock in Children's multi-year commitment to at-risk children throughout our state is also an investment in the communities in which our students live. We know that the education of a child is an investment in their future and the assured way of breaking the cycle of poverty. Our goal is to continue to reduce the number of high school drop-outs and to increase the number of students who finish college and enter the workforce successfully.
Current Students
Reminder: Current Take Stock in Children students (grades 9-12) need to update contact information by emailing changes to [email protected] & [email protected]
Additional Information for Current Students:
Your School Coordinators with preferred meeting areas on campus- Coordinators & Meeting Areas
Current Mentors
While on campus, remember to always wear your Visitor Badge and Mentor Lanyard -both from checking in at the Front Desk staff at each high school location.
---
Take Stock in Children – 2023 Alumni of the Year: Michael Mills